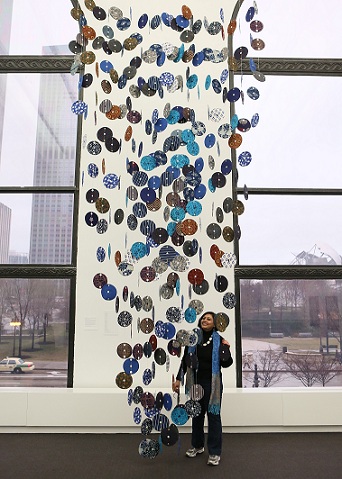 My work focuses on Gandhi's ideology of nation building for creating moral and peaceful societies, relevant for 21st century, connecting past with the present. 
My work as an artist is centered on historical iconographic elements within the cultural context of Indian history. I explore and construct the hermeneutics of period histories, its contemporary representation of socio-political inquiry within my art practice.
With my academic background in English literature, formal training in fashion designing and clothing technology, my artworks interconnect art, design and critical theories. I collaborate with the 9th or 10th generation of Ajrakh artisans who migrated from Sindh and Balluchistan in 1600 CE but still carry on with ancient textile traditions of printing and dyeing in Bhuj, Gujarat. Traditionally they work with Indigo and other natural colors. Invoking such traditions, I bring together khadi as a fabric , Ajrakh textile traditions and skill of the craftspeople giving my own interpretation in a visual form.Working with various media and excavating from history, my art celebrates the subaltern.
Image details: Site specific Installation,
Indigo Narratives 2009-2014
30 feet high, 300 Ajrakh printed buttons, 8 inches diameter
Installation shot at Chicago Cultural Centre IL, USA, 2013
As an artist, designer and a poet, to be creative is a contemplative act that distils an essence about my own total reality. In various phases of my life, I have been inspired by different subjects. My first love began for kids wear garments for the retail domestic market led me to train myself as a fashion designer in early 90s, creating and retailing the haute couture hi-fashion women wear collections under my own label. I gradually moved to visual art medium in 1999.
My select visual artwork projects were influenced by Abstract expressionism under of Lyrical Abstraction 2007 series. Beyond Mithila series 2008 were influenced by 7th and 8th century art forms of India, it contemporary interpretations and appropriations. Indigo Narratives series were inspired by India's history, narratives of immigration and transnational economic interchanges in collaboration with an American artist friend on a show title INDIGO. These works/show have travelled across continents on different venues like New Delhi, Mumbai, Baroda in India, Seattle and Miami, Chicago Cultural Centre IL, Gandhi Memorial Centre, Washington DC, USA from 2009-14 supported by Embassy of India and Indian Council of Cultural Relation New Delhi .
Salt: The Great March 2013 was my solo exhibition as a visual artist exploring the possibilities of establishing alternative societies where by re-introducing Gandhian ideals of swadharma and sarvodaya can bring critical changes as a correctional force in the societies.This new complimentary  body of works  are continuation of my earlier series, 'Indigo Narratives'. These works have traveled and been exhibited at Indira Gandhi National Centre(2013), New Delhi, India International Centre,(2014) New Delhi, Dakshinachitra Museum,(2014) Chennai, Azad Bhavan Gallery(2015) by Indian Council of Cultural Relations. They are schedule to travel internationally by 2016 onwards.
My recent curatorial  project in collaboration with Indian Council of Cultural Relations project titled 'Vastram: Splendid  world of Indian Textiles' is a travelling exhibition to ASEAN countries which includes 37 painted, printed, woven, non woven, embroidered and embellished textiles of India . I authored the published catalog (ICCR 2012) for the same.
I am invited to read papers for international conferences in Mysore and Chennai on titles Salt and Indigo : A visual Translation of Colonial India and Lincoln Gandhi and Obama: A visual dialogue in miniature style of paintings. The new academic works were created in miniature painting style and are installed as permanent exhibits at International Lincoln Centre, Shreveport, USA
The upcoming projects for 2015-16 are travelling with 'Salt  March series' internationally. Presently, I am working on new body of work titled Swaraj and khadi: Traversing human lives and humanity (working title) 2016
A Profile interview with ART RADAR(A magazine for Asian contemporary art)
'Threads of resistance : India's Shelly Jyoti' By Lisa Pollman