SALT: THE GREAT MARCH 2013
Re-Contextualising Azrakh Traditions in Contemporary Art and Craft
Exploring salt as a symbol of non-violence and investigating the sarvodaya theory in the practice of nonviolence, tolerance, peace and harmony through the narratives of swadeshi politics, these works will draw upon the history of India's colonial past and Mahatma Gandhi's 1930 Dandi March, which began the Salt Satyagraha and became an important part of the Indian independence movement.In her new series, 'Salt: The Great march 2013', artist Shelly Jyoti explores the possibilities of establishing alternative societies where Gandhian ideals of 'swadharma' and 'sarvodaya' could be adhered to and sustained with sincere implementation. In a society where patriarchal values threaten the free existence of women, the artist feels that re-introducing Gandhian ideals with critical changes would function as a correctional force.
This new complimentary  body of works  are continuation of Jyoti's earlier series, 'INDIGO Neel Darpan'.  Neel Darpan (1860) is a literary text, symbolic of yet another anti-colonial, nonviolence movement that took place in 1917-18 as 'champaran' movement for indigo farmers in India.
Shelly Jyoti's new works feature a large khadi fabric with Sanskrit calligraphic print as a site specific installation, two sculptural installations of khadi yarn (aatis) and pipe cleaners, twenty five contemporary artworks with azrakh dyeing/ printing incorporating needle work on khadi fabric and multimedia spoken poetry.
Exhibition Hall, 11 Mansingh Road,Indira Gandhi National Centre for the Arts, New Delhi
Curatorial project 2012
'VASTRAM : THE SPLENDID WORLD OF INDIAN TEXTILES'
Project by: Indian Council of Cultural Relations
Indian textiles were a principal commodity in the trade of the pre-industrial age and were prized for their fineness in weave, brilliance in colour, rich variety in designs and a dyeing technology which achieved a fastness of colour unrivaled in the world. Indian cottons had achieved global reach by trade dominating world's textile market during the sixteenth century.
As a curator of this show, I had proposed to categorize the collection of 37 traditional Indian textiles and a large site specific installation in three categories of painted printed, woven-non-woven,embroidery and embellishments . Further investigated the  global influences on new materials, machine spun yarn for hand loom cotton and synthetic dyes for vegetable and mineral dyes .The role  of Indian government after independence  as how Indian textiles sustained with new techniques, technology introduction, research on documentation and yet conserving the traditions.
Curatorial Essay: The Splendid Indian Textiles: Cotton|Cloth|Culture
 Care Package 2012- Group show
RECIPROCITY OF LOVE: SHAGUN
Introduction:
Inspired by Marcel Mauss book "Gift"1923 which notes the expressions of love that helps balances the power of relationships in the tradition of reciprocity and gift exchange. Shelly Jyoti's 'Reciprocity of love: shagun' investigates the idea of embroidered geometrical design of the traditional'phulkaree' embroidery of North-western India. Thereby, expressing love in matrilineal fashion in the traditional patriarchal society.Further exploring the same idea in today's contemporary world with gender equation altering traditional dynamics –familial, societal and cultural. Further examining, the other traditions of gifts,'give & take' like monetary shagun, as blessings to loved ones in decorative handcrafted envelopes. Symbolically,the expression of universal love and gift giving is a part of the unwritten social contract that embodies strong cultural, socio-political, and economic codings.
Curated by Ombretta Agró Andruff in collaboration with the artists.The core group of artists includes:Shelly Bahl from New York and Toronto, Shelly Jyoti from New Delhi India; Laura Kina from Chicago;Saira Wasim from Chicago;American Cambodian Anida Yoeu Ali from Phnom Penh,Cambodia.
The show opens on October 5 till November 12, 2012 @Twelve Gates Art Gallery ,305 Cherry Street ,Philadelphia, PA 19106
Indigo Narratives 2009-2011- Two Woman show
Introduction:
"Not a chest of indigo reached England without being stained with human blood", an Englishman in the Bengal Civil Service is said to have commented. In the 19th century, Bengal was the world's biggest producer of indigo but today, the deep blue color of indigo is synthetically created in a lab and is associated, in the West, with blue jeans more than its torrid colonial past. But indigo holds a sustained presence in the post-colonial identity of India. Employing fair trade embroidery artisans from women's collectives in India and executing their works in indigo blue, Indian artist Shelly Jyoti 's new works draw upon India's history, narratives of immigration and transnational economic interchanges.
Between 2009-2011 the works in this series traveled to five venues in India and the U.S. as part of a two-woman show Indigo: Laura Kina and Shelly Jyoti.INDIGO reopens in  Chicago Cultural Center  in January- March  2013
Overview
View Series
Download e-catalog
Video 2009- Documentary of Works
Beyond Mithila: Exploring the Decorative 2008-2011-Solo show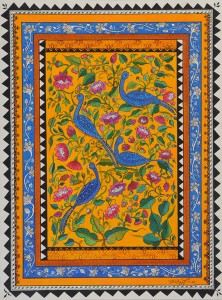 Introduction:
Cultural theorist David Harvey believes that "Heritage is, in fact, not specific to the modern world but has always been with us. He sees it as human condition, and suggests that every society has relationship with past –"even those who have chosen to ignore it and it's this relationship with the past that individuals and group use, evoke and distort in the general process of living. This happened three thousand years ago and just as it happens now."
Shelly Jyoti's'Beyond Mithia: Exporing the Decorative' series are like  fantasy of heritage, patterns and confluence of traditional art forms ,references of embroideries and embellishments from India.  To further explore and reinterpret indigenous decorative traditions is actually like revisiting the past. 'These series are all about a spiritual experience in the 21st century of the art that belonged to the 7th century.My quest to translate the folk art with contemporary theme is conscious. It is this relationship of folk art that enables me to understand the past and theorise the present within my art premises.'Says the artist .The rendering on the contemporary themes like "Woman: The three Generations" are done with inks and acrylics on hand made and Waterford sheets. These artworks have been published by Sahitya Akadmei-Indian English literature sections and 'shringara'-a recent book by Dr Alka Pande.
Between 2008-12, these works have traveled as solo shows in different venues in India and USA : Woman Made Gallery Chicago IL USA, Anne Lyod Gallery Decatur IL USA,Jamaat Art Gallery Mumbai, India Habitat Center New Delhi , Taj palace New Delhi and will be participating United ART fair in India 2012