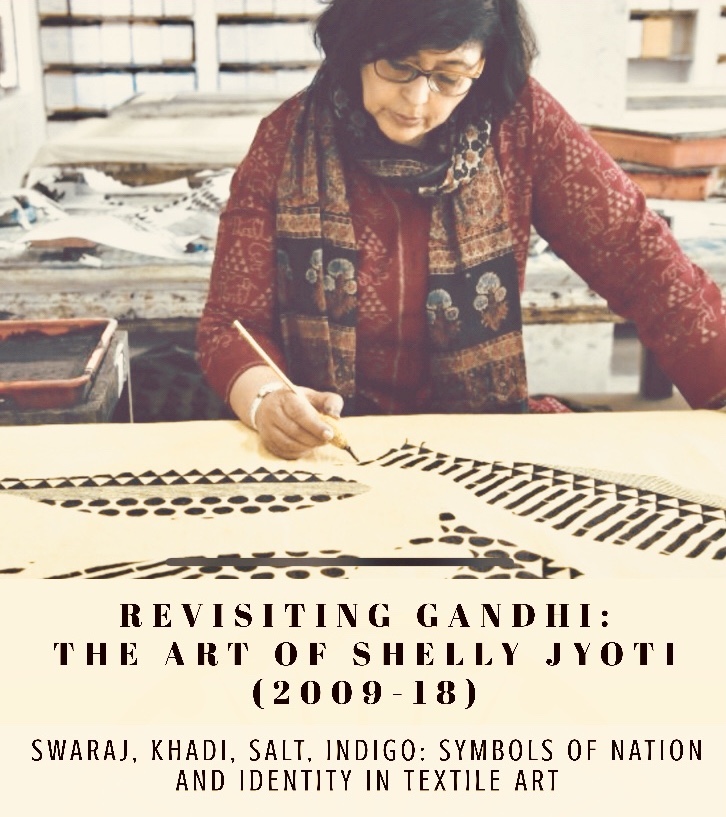 REVISITING GANDHI:  THE ART OF SHELLY JYOTI 2009-2018
SWARAJ, KHADI, SALT, INDIGO: SYMBOLS OF NATION AND IDENTITY IN TEXTILE ART
INDIRA GANDHI NATIONAL CENTRE FOR ART PRESENTS
Revisiting Gandhi- The Art of Shelly Jyoti (2009-18)' covers a decade of the artist's intense pursuit to integrate the Gandhian ideals in showcasing four important milestone exhibitions titled: Indigo Narratives (2009); Salt: The Great March (2013); The Khadi March: Just five meters (2016); Bound by duty: Swaraj and collectiveness (Preview2018).
For many artists in urban India, collaborations with artisans living in rural or tribal areas have been an invaluable way to enrich their creative practice. Shelly Jyoti, whose educational background includes Literature, Fashion, and Fine arts – has a keen interest in both India's material and socio-political history which has inspired her textile work over the past few decades. Her work focuses on Gandhi's ideology of nation building in creating moral and peaceful societies, relevant for the 21st century. Jyoti has been able to consider the critical relationship between the materials and traditional processes used in Ajrakh production to develop a deeper understanding of the critical role that cloth, fiber, natural dyes, and the environment each play in her khadi and Ajrakh art scrolls.
She has gained a more nuanced understanding of the relationship between traditional artisans and contemporary artists and the role that an artist such as herself might play in maintaining and innovating on this particular textile tradition. Conceptually, these works are created and designed as paper patterns by artist Shelly Jyoti and then stamped and dyed in collaboration with Ajrakh artisans.
This exhibition includes over than 100 meticulously crafted scrolls inspired by Ajrakh textile traditions,16 site-specific installations, a collection of multimedia spoken word poetries, documentaries mapping Ajrakh traditions in contemporary art and craft
These works have been exhibited and lectured across the globe including Chicago, Miami, Seattle, California and Washington DC in the United States. In India, they have traveled to New Delhi, Baroda, Mumbai, Chennai and Bangalore. Select important venues include The Chicago Cultural Centre, Gandhi Memorial Centre, Washington DC, The National Archives of India, New Delhi and The National Gallery of Modern Art, Bangalore.
The accompanying catalog will documentation of 150 Illustrated ajrakh scrolls plates and essays written by academicians/ authors/writers like Prof Lisa Trivedi, Murtaza Vali (Brooklyn), Johny Ml, Michele Yee (Cincinnati)
"REVISITING GANDHI The Art of Shelly Jyoti (2009-18) will be on view from October 6—21, 2018 at Twin Art Galleries, Indira Gandhi National Centre for Arts, New Delhi