Overview
"Not a chest of indigo reached England without being stained with human blood", an Englishman in the Bengal Civil Service is said to have commented. In the 19th century, Bengal was the world's biggest producer of indigo but today, the deep blue color of indigo is synthetically created in a lab and is associated, in the West, with blue jeans more than its torrid colonial past. But indigo holds a sustained presence in the post-colonial identity of India. Employing fair trade embroidery artisans from women's collectives in India and executing their works in indigo blue, Indian artist Shelly Jyoti 's new works draw upon India's history, narratives of immigration and transnational economic interchanges.
Between 2009-14 these works in this series traveled to seven venues in India and the U.S. as part of a two-woman show Indigo: Laura Kina and Shelly Jyoti including Chicago cultural centre, IL 
Click to read the PDF version of catalog published in 2009 
Click to read the PDF version of the catalog 2012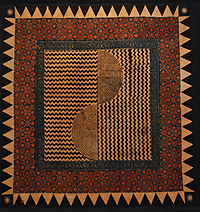 An Allusion to Azrak
The use of azrak printing on khadi in my works is examining the immigrants with indigo technique which came along with them. 'I went and worked with 9th generation Azrak artisans with ancient indigo resist printing technique'. Within this body of work, I also examine the implication of personal, political and cultural choices of communities that migrated from Sindh and Baluchistan with the craft of indigo, with a strong narrative element to create and yet preserve their identities.
View the series.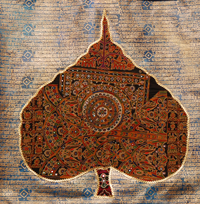 An Allusion to Stitches
Her choice of tribal embroidery is equally strategic as it brings interconnection of different communities of Sindh and Baluchistan ethnically and culturally who migrated to Gujarat in 1600CE and mingled with local natives to create and preserve their identity through art and craft. Incorporating handwork of artisans from such fair trade women's collectives such as Shurjan: Threads of Life to create hand embroidery elements are integrated into her paintings. I create a cultural context of my work by investigating the interchanges within the communities impacting each others craft with a hybrid sense within immigrants.
View the series.
An Ode to Neel Darpan
Neel Darpan'(1860) was written by Dinbandhu Mitra on the plight of indigo farmers. The play portrayed the eco-political exploitation by the colonizers in early 19th century. "An Ode to Neel Darpan 'is a narrative retold in site-specific installations. The installations re-contextualize with tapestry of designs and are a tribute to indigo farmers of Champaran. The printed disks are inscribed with 15 different contemporary indigo print which maps the story of ryots of Champaran suggesting of their sorrowful tales inscribed in each circle .There are 86 disks installations hanging are attached to one another, suggesting hundreds of years of subjugation. The parallels of circles hanging with different placement of prints also explores the manipulation of visual effect.
View the PDF:shelly jyoti_2018 AN ODE TO NEEL DARPAN _SHELLYJYOTI-2017
View the series.
The exhibition has been featured or reviewed in India in: ArtEtc., Art India, The Asian Age, Business Standard, Business Today, Deccan Herald, Design Today, DNA After Hrs, The Economic Times, Financial Express, Good Housekeeping, The Hindustan Times, Indian Express, New Woman, Open Magazine, The Pioneer, The Times of India and in Miami in El Nuevo Herald and as a "critic's pick" at artCircuits.com.