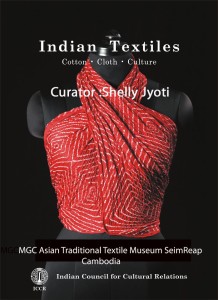 Vastram: Splendid World of Indian Textiles curated by Shelly Jyoti
A collection of Indian Council of Cultural Relations, New Delhi 
Introduction: Indian textiles were a principal commodity in the trade of the pre-industrial age and were prized for their fineness in weave, brilliance in colour, rich variety in designs and a dyeing technology which achieved a fastness of colour unrivaled in the world. Indian cottons had achieved global reach by trade dominating world's textile market during the sixteenth century. As a curator of this show, I had proposed to categorize the collection of 37 traditional Indian textiles and a large site specific installation in three categories of painted printed, woven-non-woven,embroidery and embellishments . Further investigated the global influences on new materials, machine spun yarn for hand loom cotton and synthetic dyes for vegetable and mineral dyes .The role of Indian government after independence as how Indian textiles sustained with new techniques, technology introduction, research on documentation and yet conserving the traditions.
Curatorial Essay: The Splendid Indian Textiles: Cotton| Cloth| Culture
Click to view : The exhibit collection of 'VASTRAM'
Click to view select: Installation shots of the exhibits at Muscat Oman
Click to view select: Press & media
Site specific installation: Ajrakh: Showers of Celebrations by Shelly Jyoti
Exhibition venues:
2015
Muscat , Oman 
2013-15
MGC Asian Traditional  Textiles Museum, Siem Reap City, Cambodia
This textile exhibition further travels to Ethiopia, Turkey, Fiji and Nepal