SEASONS GREETINGS | HAPPY NEW YEAR | REWIND 2021
Dear friends,
Seasons Greetings.
Wishing you all a very happy, and healthy year ahead. We look forward to 2022 with greater learnings, immense gratitude of the living moments with our families and loved ones.
The unpredictability of year that went past has not seen the closure to unprecedented global pandemic. Presently we are amidst another Corona variant that is ushering us into new year with newer realities of the year ahead. Hoping year three of the pandemic will be better than year two, and covid-19 will have much less impact on health and our everyday activities.
My present work on a title '
EPOCH 2020: RELEVANCE OF GANDHI IN PRESENT IN PRESENT TENSE -Time, Rebirth, Iconology
' is work in progress that was inspired by the lived experience of epochal times we all were witnessing in 2021. The sufferings of unimaginable dimensions were unprecedented. The realisation of Gandhi's philosophies that I had visually narrated in last 10 years started to resonate with me in relevance to the unpredictable times we were cruising in.The idea of 'adherence to ones duty', 'self reliance', 'upliftment for all', 'self rule' seemed the resolve to way forward, and that led me to investigate as what is time as a temporal
phenomenon
, and 'picture theory'.
I am immensely grateful to Prof
W J T Mitchell
(University of Chicago) for his research on 'Time, iconology of time and image theory' that inspired me to contextualise my new works as an artist in the last two years. I am thankful for his participation as a keynote speaker for webinar hosted by Indira Gandhi National Centre for the Arts, IGNCA , New Delhi. Sharing Prof Mitchells keynote address during the webinar.
Epoch 2020 is scheduled to exhibit in physical gallery space in 2022.
Sharing my Rewinding moments of 2021.Thanks from the bottom of my heart for your appreciation and engagement with my works
Wishing you all safe and protected times ahead. Peace, good health, and prosperity for you and your loved ones.Warm wishes & regards,
Shelly Jyoti
www.shellyjyoti.com

REWIND 2021
EXHIBITIONS 2021
SOLO SHOW & WEBINAR:
Hosted by Indira Gandhi National Centre for the Arts, IGNCA New Delhi
Click to view the event :
https://youtu.be/1QaRDXWEC4A
Epoch 2020: Relevance of Gandhi in present tense -Time, Rebirth, Iconology by Shelly Jyoti
Eminent speakers across the continent discussed and deliberated on 'what is time, times in pandemic, relevance of Gandhi in present times"
GROUP SHOWS
2021:
Yatra Nariyastra
curated by Uma Nair, National Gallery of Modern Art, New Delhi.
2021
: Reimagining the Global Village
curated by Nirmal Raja. Milwaukee Institute of Art and Design, Wisconsin
SPEAKING ENGAGEMENT:
Lectures, Interviews, Talks
LECTURE
:India International Center, New Delhi, January 2021
Translating Gandhi in 21st Century : Journey of a textile artist
Click to view
:https://www.youtube.com/watch?v=icaiVFcVsF8
INTERVIEW
: In conversation with Waswo x Waswo
Click to view:
https://www.youtube.com/watch?v=XWJ7b6jrjEA&t=636s
LECTURE
: FGV Brazil School of Business, November 2021
Gandhi's Thought leadership in relevance to the present tense: The journey of a textile artist By Shelly Jyoti
LECTURE:
Consulate of India, San -Francisco, USA Azadi ka Amrit Mahotsav
Khadi and Ajrakh embodies swadeshi movement: Relevance of Gandhi in present times by shelly jyoti
Click to view :
https://fb.watch/a5L69T3-fg/
ART & DESIGNS INSTITUTES / HIGH SCHOOL STUDENTS
FILM SCREENING &LECTURE: JD BIRLA Institute of art and design, Kolkata, Mapping Ajrakh traditions in Contemporary art and craft by Shelly Jyoti
ARTIST TALK :National Institute of Fashion Technology NIFT, Delhi & Bangalore,
ARTIST TALK :Sri Ram School, Moulsari, Gurgaon, Haryana
UNSETTLED WINDS- Animated video installation
by SHELLY JYOTI | Year: 2021| Duration: 00.03.19 minutes | Format: MP4 |Size: 1920x 1080px |Genre: Art/ Animation |Supported by Indira Gandhi National Centre for the Arts
CLICK TO VIEW FULL VIDEO RECORDING OF THE OPENING OF NEW WORKS AND LECTURES
PRESENTATION OF NEW WORKS
'EPOCH 2020: RELEVANCE OF GANDHI IN PRESENT TENSE Time, Rebirth, Iconology by SHELLY JYOTI
KEYNOTE SPEAKER
Prof. W.J.T Mitchell is a Gaylord Donnelley Distinguished Service Professor of English and Art History at the University of Chicago. He works particularly on the history and theories of media, visual art, and literature, from the eighteenth century to the present.
LECTURE: India International Center, New Delhi, January 2021
Translating Gandhi in 21st Century : Journey of a textile artist
JANUARY 2021
In conversation with Waswo X Waswo
Indigo, Khadi, Gandhi, and Shelly Jyoti

JUNE 2021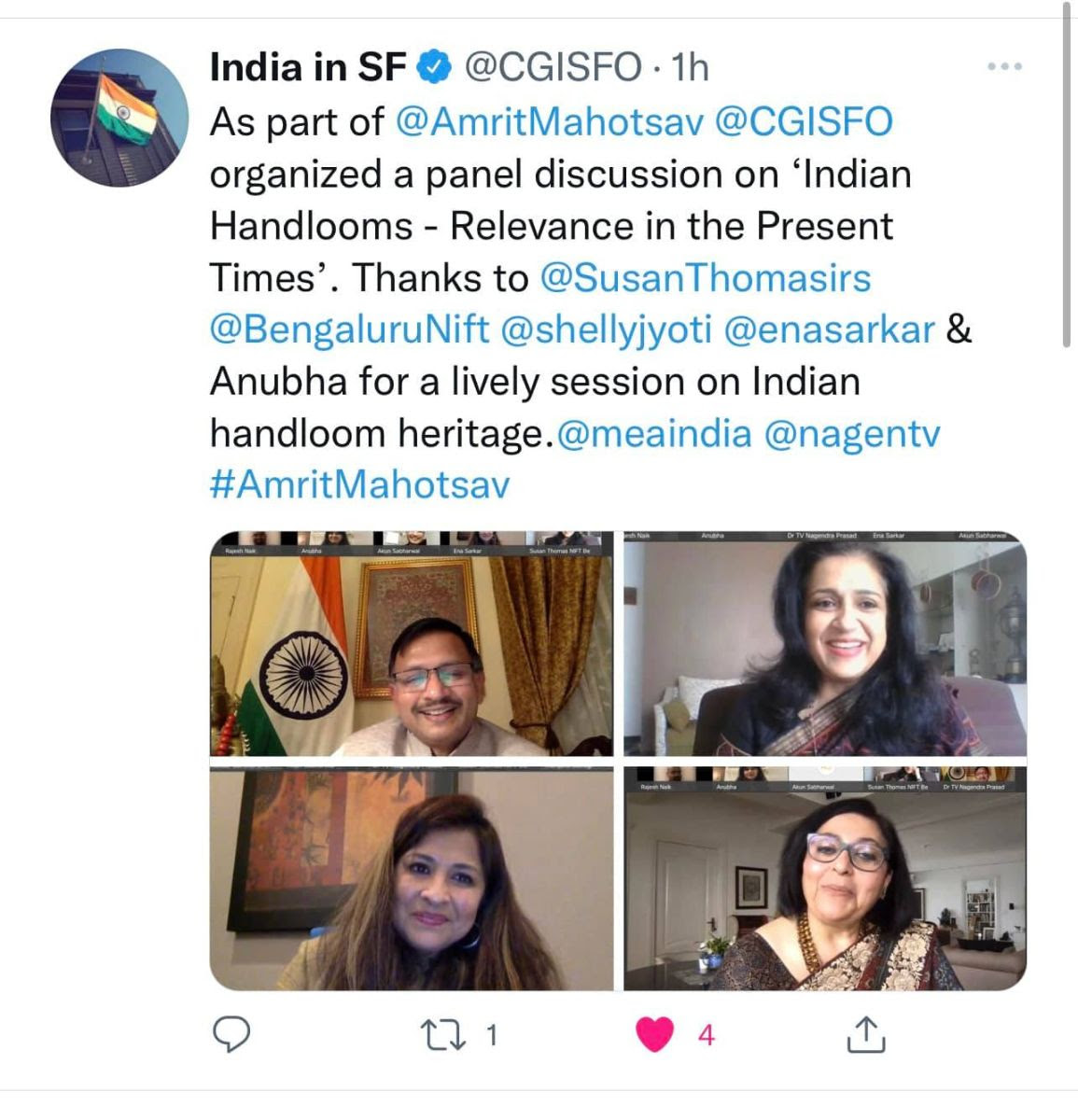 LECTURE: Consulate of India, San -Francisco, USA Azadi ka Amrit Mahotsav
Khadi and Ajrakh embodies swadeshi movement: Relevance of Gandhi in present times
by shelly jyoti
DECEMBER 2021
A Guest lecture at a Business school
FGV EAESP São Paulo School of Business Administration, Brazil

November 10, 2021