EPOCH 2020: PASSAGE OF TIME
My poetic cruise: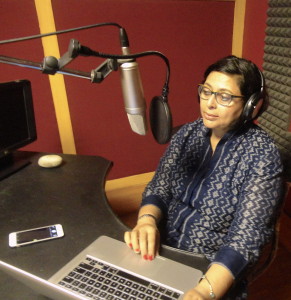 I have been writing poems as a young girl of 14. It was a way of explaining the world to myself. I had no theories about what a poem might mean in a cultural or artistic sense and had no idea of communicating with anyone else other than my family members. In my 20s -30's, I still wrote to understand the world, but my sense of what 'the world' was changed.I became aware of the experience of others and mine over a period of time and the way other people expressed themselves and became more aware of the life, its challenges that we undergo on every day. In the young days, my poems were recorded by All India Radio in my voice circa late 70's.Later in early 2000, my poems started to get published by Sahitya Akademi (English literature section) along with my artworks many times.
Poetry and art became my artistic endeavour or a cultural artefact to narrate my anguish as time. When I go in deeper inquiry of my subject, I am so overwhelmed with the substance of the topic that gushing words pour and so do the tears stream as I wrote my thoughts on the paper. I understood that as catharsis of the moment that leads me to visually create and write. My pouring words are like a lighthouse that stands on wounds of my emotions.
Nowadays, I create poetry as multi-media presentations under 'Magic-lantern series' by sharing verses through social-video communication reality of 21st century, reaching out to people touching upon the idea of swadharma, , sarvodaya, swadeshi and swaraj inspired by Gandhi's experiments of his satyagrahas.
His head hung in shame

His land is not what he dreamt of
His people are not who he instilled faith in
His eyes shut — as if bleeding with tears

His ears shut – with the communal cacophony.
His mouth sealed- an orgy of –silence
Like his three monkeys on my table, I feel
Mahatma doesn't stop spinning
Shelly Jyoti
Graveyard
Blazing sun, seems unreal
Graveyard seems unreal
Bodies piled up seem unreal
Corpses too many seems unreal
Too many people dyeing
Too many people leaving us soon
Breathless agony, nightmare
Virulent virus going viral
Global north to global south
East to west latitudes
Circling around as if revenging
Death bells tolling, can hear them loud
Numbers rising
Can't see the infinity
---
Monologue
It felt as if land below us
Stopped moving
There was no movement
The unimaginable suffering
Of human mankind was unseen
The fears were volcanic
Black clouds spininng
Life was threatening
To mend our ways
Violent was the process of virus
Swirling touching and extinguishing
Political and geological ruptures overlapped
Planet beyond repair
Human paradigm
Communities to come together
To heal, design and weave
The new fabric of life
Sediments of humanity
Hung on the fossils of threads
---