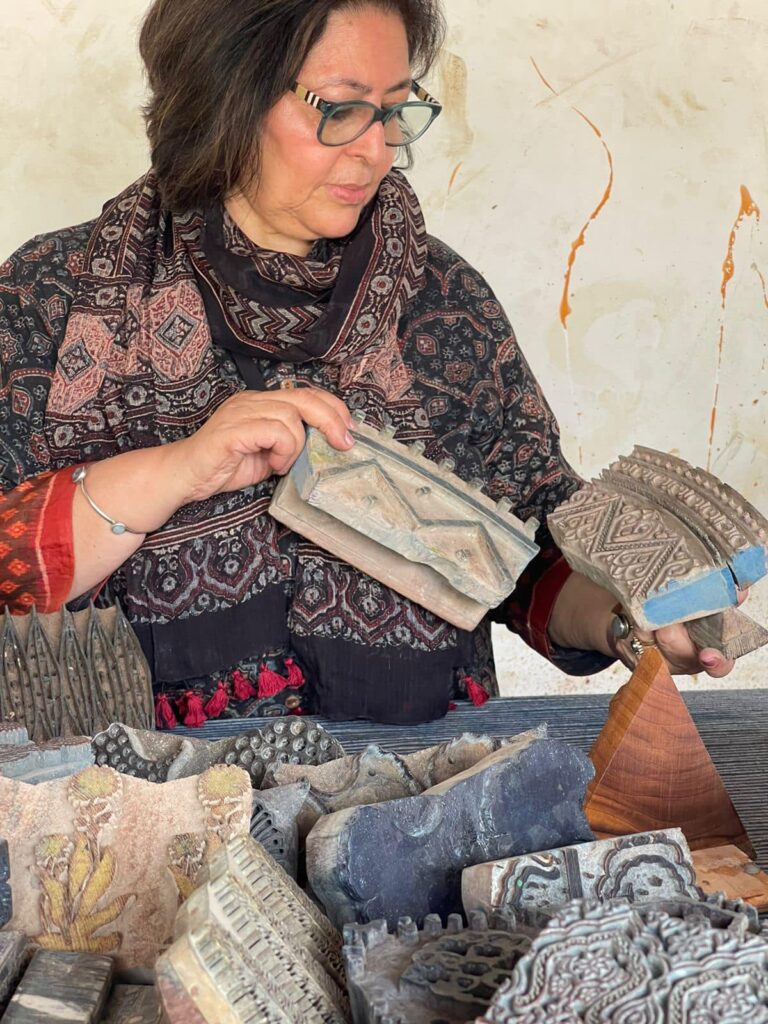 My work embraces historical iconographic elements and textile production techniques to bridge India's rich and varied artistic traditions. In my art practice, I explore and construct a hermeneutics of period histories that are both socio-economically and politically sensitive.
I am honoured to be invited by South Asia Institute of Chicago to reopen my 2009 work on 'Indigo' series. In Indigo narratives 2009 series, I explored the role of indigo in India's freedom struggle and Gandhi's first non-violent protest on Indian soil in 1917-18 after he returned from South Africa, and the account of tyranny of British colonial indigo planters on native farmers through Bengali literary text, Nil Darpan, written by Dinabandhu Mitra between 1858–1859.
In my current exhibition, Indigo: The "Blue Gold," I re-conceptualize my earlier work, exploring the significance of indigo dye as a transnational and exploitative commodity that connected the globe through profitable trade, migration streams, slavery and indenture, and colonization. This exhibition addresses historical, botanical, and commercial aspects of the cherished and innocuous indigo dye which is such an ordinary feature of modern life.
The exhibition comprises six interrelated sections. Each section of the exhibit tells the compelling story of how indigo connected the globe. The opening section of the exhibition focus on the history of the indigo farmers of colonial Bengal with an installation titled Homage to the farmers of champaran. This section also features spoken word poetry performance of Ode to Nil Darpan. The mass cultivation of indigo on plantations in India's Bihar and Bengal required forced labour and the exploitation of generations of farmers for decades, until Gandhi political intervention, the Champaran satyagraha.
Indigo: the Blue Gold features 44 new pieces all printed on hand-spun, handwoven khadi cloth. These pieces were created through the application of textile tradition nearly five thousand years old. Printed and dyed ajrakh is augmented with needle work, known as zardosi, and a splash of mirror work. My ajrakh pieces utilize the iconography of 18th century ships, nautical routes, maps and maps to tell a story about global interconnection.
"The Mosaic Wall of Indigo: red, white and black make blue" is an installation comprising 28 works using red, white, and black natural dyes. It speaks not only of the drudgery of indigo cultivation, but also the violence that was required to satiate global demand for the commodity. Red, white, and black make blue attends to the variety of human experiences connected with indigo dye, its cultivation, trade, and application.
To provide perspective on contemporary indigo dye, I also created an installation of fashion and clothing including trendy kaftans and unisex indigo jackets. Using traditional wood block motifs that are three to four hundred years old and indigo dye, I have created a fresh, contemporary style for today's consumers. I strive to present the viewer with an experience rich and meaningful through heritage arts recontextualized and redeployed, emphasizing the need for conservation of India's diverse textile arts traditions.
The ajrakh printing and dying techniques used throughout the exhibition are traditionally associated with khatri communities, who began migrating from the region of Baluchistan (Pakistan) to Sindh (Pakistan) and Gujarat (India) in the 17th century. I work with tenth-generation ajrakh craftsmen who today live in Ajrakhpur, Bhuj, Gujarat. With their artisanal skill and heritage woodblocks, I create pieces consistent with my conceptual framework, excavating ideas, feeling, and forms from history that celebrate the subaltern for a contemporary, international audience. Working with indigo dye on khadi fabric and these ancient resist printing techniques, I am able to create truly contemporary designs that draw attention to the complicated and intertwined human history of indigo.