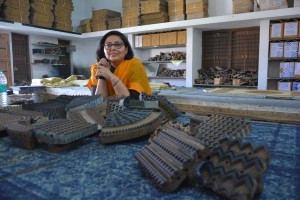 The Khadi March: 'Just five meters' 2016
By Shelly Jyoti
As a visual and textile artist, my work seeks to address iconographic elements present within the context of modern Indian history and contemporary society. 'The Khadi March: Just five meters'(2016) continues to explore Gandhi's idea of swadharma, a subject I have pursued in two previous projects, 'Indigo Narratives' (2009-14) and 'Salt: The Great March' (2013-15). I use khadi in this exhibition both as a symbol and as a material that expresses qualities of self-purification, self-reliance and independence. Drawing upon my training in literature and in fashion design, my visual art challenges the creative, technical, and experimental space within my artistic practice. The exhibition is comprised of several khadi site-specific installations, 20 Ajrakh textile artworks, and multi-media spoken poetry art.
During the period of mass nationalism (1920-1947), Gandhi inspired thousands to return to textile production and to wear khadi, or homespun, home woven cloth for several reasons. He returned to the production of khadi as a means of uplifting millions through common labor on behalf of the nation. He envisioned the consumption of khadi as a means of bridging the divide between urban and rural populations, as well as between high and low castes. Gandhi viewed a return to khadi production as a means of changing the character of India's vast population, transforming colonial subjects into modern Indian citizens.
'The Khadi March: 'Just five meters' is a call to action that aims to challenge people who live in urban cities to rethink our engagement with the rural spinners, weavers and handicraft makers in India's thousands of villages and beyond. It does through substantive collaboration with tenth generation Ajrakh textile artisans in Gujarat. While working with those who have inherited and are passing on our textile traditions, I have been able to consider the critical relationship between the materials and traditional processes used in Ajrakh production to develop a deeper understanding of the critical role that cloth, fiber, natural dyes, and environment each play in my khadi Ajrakh creations. I have also gained a nuanced understanding of the relationship between traditional artisans and contemporary artists like myself in maintaining and innovating this particular textile tradition. Through display in museums, galleries and public spaces, 'The Khadi March: Just Five Meters' showcases the khadi as a medium for urban India that can support a new dialogue with our rural communities and fellow human-beings.
This exhibition is in part supported by Khadi & Village Industries Commission and YES Institute