OVERVIEW:The Khadi March: Just five meters is a call to action that challenges people who live in urban cities to grant dignity to the rural brethren and to rethink our engagement with the spinners, weavers and people who work with handicrafts in the villages
Click here to read more
Upcoming: October, 2017
National Gallery for Modern Art, Bengaluru, India
17-23 April, 2017  lalit kala Academi, New Delhi, India
20-26 Oct, 2016 Visual Arts Gallery, India Habitat Centre, New Delhi, India
---
ARTIST STAT
EMENT: As a visual and textile artist, my work seeks to address iconographic elements present within the context of modern Indian history and contemporary society. 'The Khadi March: Just five meters'(2016) continues to explore Gandhi's idea of swadharma, a subject I have pursued in two previous projects, 'Indigo Narratives' (2009-14) and 'Salt: The Great March' (2013-15).
Click here to read more
---
ARTWORKS:These artscrolls are created in collaboration with Ajrakh artisans to document the blocks and laborious printing /dyeing technique.The purpose of creating these artwork Timeless silhouette  of different contemporary silhouettes that have the western and orient influences. I am also trying to document the upper body wear that has been worn by women of India in the 21st century  Click to view
---
ART INSTALLATIONS:
I am exploring the idea of khadi as a visual expression of national identity for the 21st century by connecting urban consumers and rural producers. The title of the piece was inspired by Lisa Trivedi's Clothing Gandhi's Nation: Homespun and Modern India.
Click to view more
---
A SHORT DOCUMENTARY FILM :
Mapping Ajrakh Textile traditions in contemporary art and craft: The Art of Shelly Jyoti 2016
This short documentary film by Shelly Jyoti features the processes of Ajrakh textile traditions and craftsmen collaboration with contemporary visual artists. It explores newer dimensions, the critical relationship between the materials and traditional processes used in Ajrakh production and to develop a deeper understanding of the critical role that cloth, fiber, natural dyes, and environment each play maping Ajrakh traditions in contemporary art and craft.
Click to view the Youtube link
---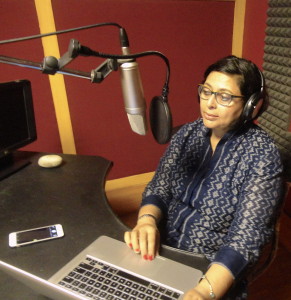 MULTIMEDIA SPOKEN WORD POETRY
Shelly Jyoti, 'The khadi March: Just five metres'
Video duration: 07.05 minutes; Magic lantern slides . 143 lines
Just five meters: My friends – An urban appeal
2016
The poem was written following my own 2013 visit to Dandi, the final destination of Gandhi's eventful Salt March of 1930. Meeting and listening to veteran freedom fighters, including Acharya Dhirubhai and Gosaibhai Patel, both inspired and troubled me. click to view the youtube link
---
OPENING AND INSTALLATION SHOTS  
 Visual Arts Gallery, India Habitat Centre, 20-26 Oct, 2016
Chief Guests and others : Smt Tara gandhi Bhattacharjee(Grand daughter of Mahatma Gandhi); Shri Vinai kumar saxena-Chairman , khadi village industries commission; Meenakshi Lekhi-Member Parliament, Gurujee Narayana, Bim Bissel and family from FAB India, friends, family and many others.
CATALOG
Fully illustrated coloured pages 76, Dimension:11x 8.5 inches
Foreword by Smt Tara Gandhi Bhattacharjee, Grand daughter of Mahatma Gandhi
Comunicating for Community in Our Times by Lisa Trivedi
Professor of History, Hamilton College, U.S.A, Author of Clothing Gandhi's Nation: Homespun and Modern India
Swadharma: The Khadi March by Guru Narayan jee
Guru Narayana jee is a management guru. An exponent on Bhagwat Gita, a mentor to many chief executives and is a yogic volunteer, serving rural and urban India.
 PDF: The khadi March: Just Five Meters

Publication date: Oct 2016
---
PANEL DISCUSSION
The Poetics of Khadi: Cutting across time and space
Bikaner House, Shahjahan Road, India Gate, New Delhi
PANELIST: Ritu Beri-Fashion designer; Meenakshi lekhi-MP; Shelly Jyoti- A visual/ textile artist; Geeta Goradia- Chairperson Jewel Industries, Varsha Das- a Gandhian thinker,art critic and littterateur; Poonam Goel- Delhi based art writer and journalist (moderator)
' Let's ignite this urban socialism -you, me and three hundred million of us -for sake of rural brethren – Just buy five meters,  simply once a year, simply once year! As a notion of swadharma towards our country
we can together do it!' Excerpt from poem 'Just Five Meters :An urban' Appeal by Shelly Jyoti

Click the video of the event:
Khadi: A Social Equalizer. A Short Video under YES Institute 'Craft in India' Series
---
PRESS AND MEDIA COVERAGE
THE KHADI MARCH: JUST FIVE METERS BY SHELLY JYOTI
The Pioneer, Hindustan Times, Asian age , Business standard, Deccan herald, Indian Express, The week, India Today, The Hindu, Metropolitan plus, Platform, Sunday Guardian, Metroplus, DNA after hrs, Metrolife, Mint, Millinium post, Asian age –cityscape, Asian age art+ ,Mojarto.com and many online websites, A TV interview by NDTV profit prime
---
ACKNOWLEDGEMENTS
MAKING OF 'THE KHADI MARCH: JUST FIVE METERS' (2016)Smt Tara Gandhi Bhattacharjee for writing catalog foreword and sharing her poetry 'Spinning wheel' for the show; Prof Lisa Trivedi Hamilton, Professor of History, Hamilton College, U.S.A, Author of Clothing Gandhi's Nation: Homespun and Modern India for the writing the catalog essay and peer review; Dr Alka Pande, Curator & Director of Visual Arts Gallery and her team; Shri Gurujee Narayana, an exponent on Bhagwat Gita and Vedic literature for writing the essay on Swadharma as catalog essay and his blessings; Poonam Goel-Personna; Audio recording Studio: Pindrop, Haus khas, New Delhi; Dishant Narang for lending his voice over for Multi media spoken word poetry and the documentary film; Ajrakh Artisans in Bhuj-Ashraf, Ishak Ali Mohamed, Juber Adam, Razak siddique; Master craftsman -Junaid Ismail M khatri; Photography: Inder Gopal, New Delhi; Khandelwal Interiors: Constructional finishes, New Delhi; Dress forms: Figurette INC kalkaji, New Delhi; Documentary work: Ridham D Chhatrala, Bhuj, Gujarat; Embroidery: Naintara, Savitri, Gudiya, Shefali; Construction and stitching of fashion: Suresh pattern master; Catalog publishing: Archana Press; Video editing: Creation Films, Lajpat Nagar, New Delhi; Publishing consultant: Vasundhara Sawhney Jyoti; Final year Textile Design students NIFT, New Delhi; Ashima Tshering, Installation & Spatial Design student at NID, Ahmedabad
The exhibition THE KHADI MARCH : JUST FIVE METERS at National Gallery of Modern Art is in conjunction with Indira Gandhi National Centre for Arts, New Delhi and in part supported by Khadi & Village Industries Commission and YES Institute 
www.shellyjyoti.com
---